This Friday Night under lights at Tormore Reserve, we come together to bid a heartfelt farewell to our Men's Vets Coach, Greg "Supercoach" Joseph.
After eight remarkable years at the helm, Joey has decided to hang up his white board and embark on a well-deserved coaching retirement.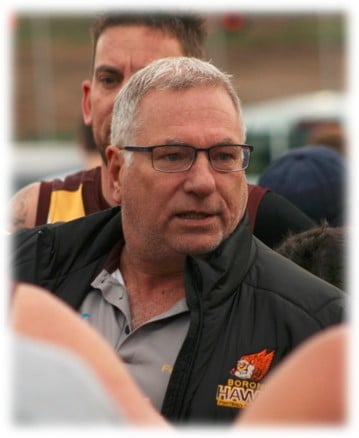 Although we feel a tinge of sadness, it is with immense gratitude we celebrate what he leaves behind. Through his leadership and support, he has cultivated a team of has-beens and misfits, transforming them into a tightly-knit bunch of blokes that stands as a testament to his remarkable character.
And though success may not have always followed, it is important to recognize that the true measure of a coach lies not solely in the number of trophies but in the laughs and fun the players had on your journey. The impact Joey has had on this club cannot be overstated. He fostered a culture of camaraderie, resilience, and mateship, traits that will continue to shape the Vets long after his departure.
His departure leaves a void that cannot be easily filled, but we know that you leave with your head held high and the knowledge that you have positively impacted the blokes around you. Your legacy will live on in the memories, the stories, the spirit and the sportsmanship of Boronia Vets and we are thankful that you will still be around the club offering support. Hopefully, the boys will put in another solid performance on Friday and send you out on a winning note.
Thanks Joey. #Supercoach #Mateship 
---