The NAB AFL Auskick program makes learning to play AFL fun, safe and easy for boys and girls. Through weekly coaching sessions they will learn the skills of the game in an exciting, social and safe environment. The AFL Auskick program has centres that operate all over the country, including Boronia Auskick on Friday nights at Tormore Reserve, starting in April 2024!
We are a AAA RATED Auskick centre which means we structure our program to Access All Abilities. We also cater specifically for girls-only sessions (if numbers permit) and we run a 4 year old specific program in preparation for Auskick proper the following year. All parents need to be available at each session for 4 year olds and a roster for parent/ carer helpers will be sent out for all other age groups when the season begins. All children are welcome at the Boronia Hawks Auskick Centre.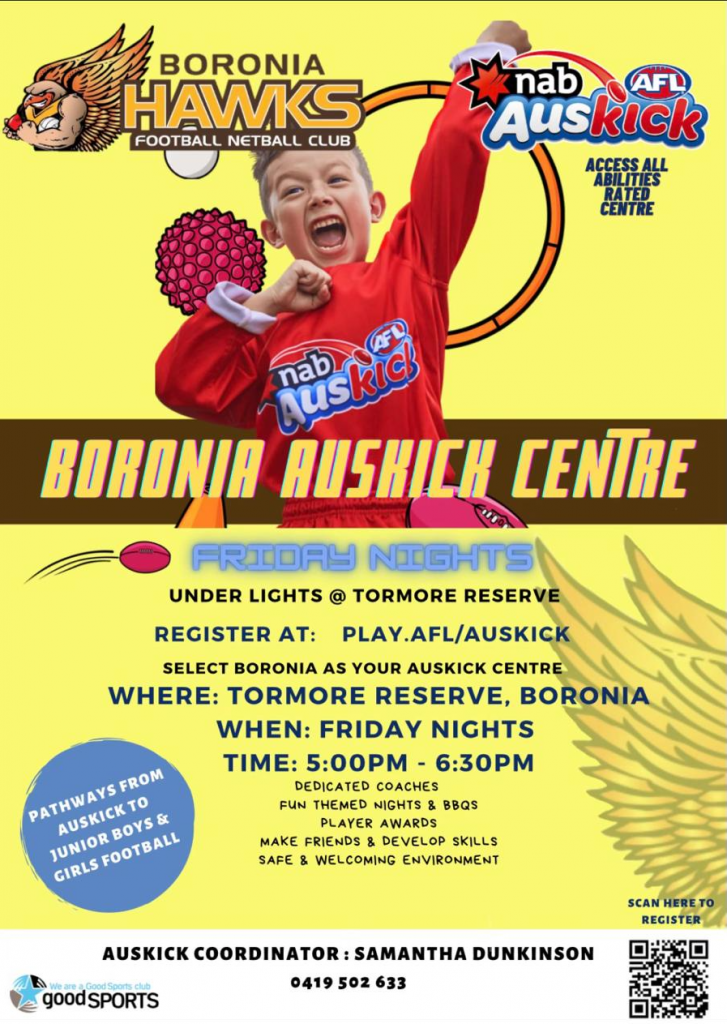 Children will learn the fundamental skills vital for future physical activity and sport participation as well as learning how to interact with other children as part of a team in small group activities.
The program also provides a great opportunity for parents to interact with their kids through the activities, have the opportunity to make new friends, learn about the game and spend quality time with their children.

Boronia Auskick is
managed by

Boronia Hawks Football Netball Club so it provides a perfect pathway for boys and girls who want to go on to play junior football and eventually senior football.
---
Our Auskick Co-ordinator is Samantha Dunkinson,  who can be reached at: auskick.boroniahawks@gmail.com
We have a private Facebook Group for Auskick parents to keep everyone up to date with the latest news, including cancellations due to bad weather!
What age can kids play Auskick?
The NAB AFL Auskick program is for primary school aged children 5 to 12. (Children must turn 5 in the calendar year to participate) Please Note: One Parent or Guardian is required to stay for the entire duration of each Auskick session. This is a legal requirement!
Enrolment at Boronia Auskick
Enrollments for Boronia Auskick are available through the Auskick web site. Registration for Boronia Auskick are only available online at NAB AUSKICK. Please search for 'BORONIA AUSKICK CENTRE' in the centre locator and click on the REGISTER button.

Parents should receive an email once they have completed the online registration.
How can I be involved?
Boronia Auskick is run by volunteers. Whilst we have the backing and support of the AFL Victoria & Eastern Netball Football League, and our sponsors, the clinics you attend are managed by our junior committee.
Our coaches also require assistance every week to ensure the smooth running of the clinic. We encourage parent involvement during the clinics and it's also a great time to have some fun with your child. Speak to your coach for further information.
---
Any Questions? Please contact us now!
---