Boronia HAWKS v Norwood Black
I'm going to be a harsh coach and say that this week we did not play our cleanest netball. We were driving long and behind and had way too many unforced errors; we were working harder in attack to get the ball to goals than usual.
At half time I gave the girls a brutally honest 'kick up the butt' and told them to pick up their game; which they did.
Our defence end were our savours this week. Kasey Lee came to our rescue to fill in last minute and had an absolutely fantastic game in WD. Nat Craven and Madison Barrie were a great combination in defence against very physical goalers. Kasey, Nat and Maddy all played ripper games this week, gaining many turn overs for Hawks. A much better second half saw us take a convincing win 60-38, but maybe we should have won by more given Norwood are sitting bottom of the ladder. 2 games to go!
Boronia Hawks 60 d Norwood Black 38 Goals: J.Rush 44, M. Hutton 10, S. Philp 6, E. Ingwersen, C. Alexander, E. Barrie, M. Barrie, A. Forrest, N. Craven.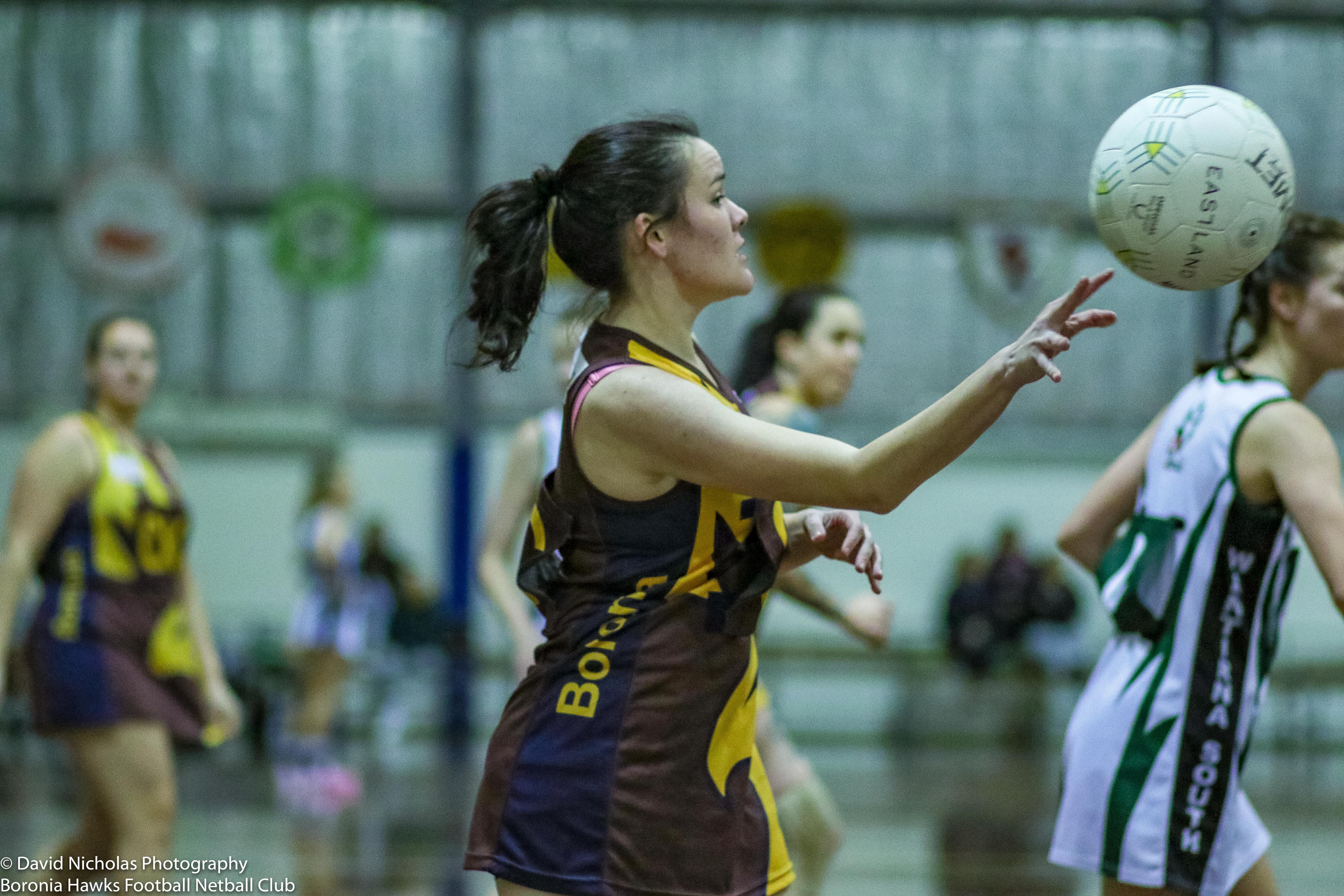 ---
Boronia GOLD v Scoresby Soarers
I thought last week was a good win but this week was even better. Scoresby was strong in the first 1/4 and it was goal for goal. We were in front by a couple of goals at the end of the quarter and I thought it was going to be a fight to stay in front. We made a couple of changes and it just worked. Defence was tight and made it hard work for their goalers as they often only had one goaler in the ring. In the last half Sarah was on fire in goals, making great position and hardly missing a shot with 25 goals.
Everyone played an awesome game. Well done again!
Boronia Gold 57 d Scoresby Soarers 29 Goals: S. Grigg 25, J. Hall 24, C. Hahn 6, C. Barnard 2, D. Reynolds, I. Baselier, T. Parker, J. Griffin, S. Shillingford.
---
Boronia BROWN v FTG White
A feisty and tough game for the Boronia Brown girls this week. This season we have come up against some strong and more physical teams, but this week was unlike any other. What we demonstrated was not only our strength on the court, but our mental strength and maturity. From the start of the game we fought hard to keep the scores as level as possible.
Courtney and Alex in defence held each other up during the game, literally speaking. Not only are Alex's arms long, but when her full body weight is being held up by Courtney to allow her reach even longer, this makes an unbeatable force! A huge thank you to Naomi for filling in, her young legs were able to hold through the C for us whilst Lauren was away for the week.
Mollie, Sherridan and Amanda worked hard around the circles and bringing the ball down the court. With control, strength and good choices of play they did not need to tire themselves out by trying to play rushed as the opposition. Caitlin and Dani were very accurate and excelled under pressure, a confident goaler is key to success in the season and more importantly leading into finals.
In the last few minutes of the game we were down by 1 goal. With 1 and a half minutes to go, we won a turnover which resulted in a goal to make us even. Luckily after this goal it was then our centre pass to have us in the lead. In this time of nerves and pressure we were able to be calm, centred and take our time to ensure this centre pass resulted in us being in the lead. We scored the goal with no problems. This left 30-40 seconds on the scoreboard with a Ferntree Gully centre. A moment of calmness hit Mollie (WA) who turns to Caitlin (GA) and says 'you know what, after this whole game I would actually be happy with draw'. But boy was she wrong.
Our hands on and screening pressure became too much for the GS on the opposition. The win by 1 point as the GS missed the goal in the final remaining seconds and for Alex to have the rebound was so much sweeter than any draw could ever be. Amazing game by the Boronia Brown team, a great reminder of sportsmanship, determination, and overall joy for the game. #getaroundthebrown
Boronia Brown 25 d Ferntree Gully White 24 Goals: D. Kemp 16, C. Yann 9, A. Cellante, S. Martin, A. McKaige, M. McMahon, C. Krenn.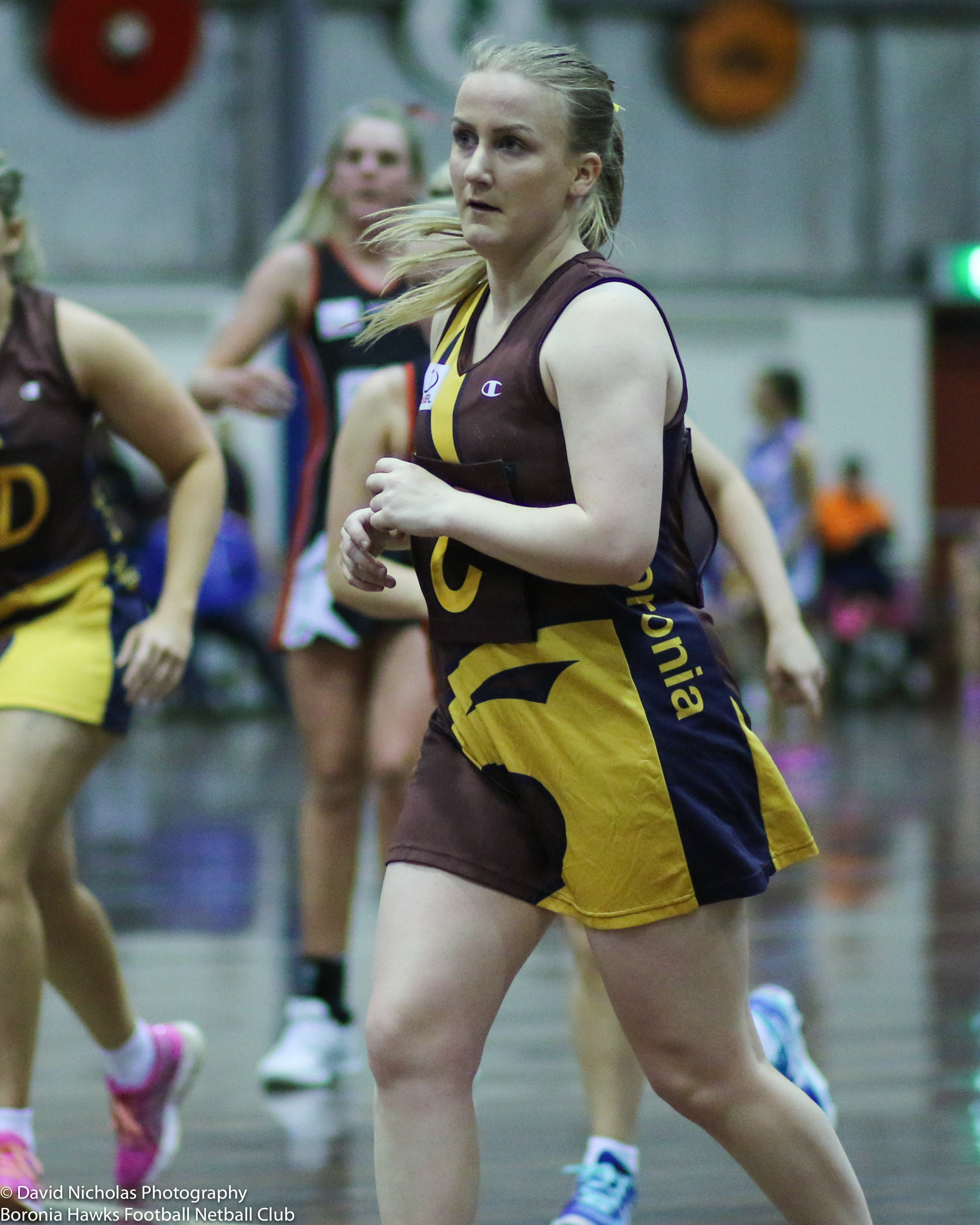 ---