HAWKS: Round 15 – Final Round of the season
Boronia Hawks 57 def by Scoresby Swoopers 60 (Julia Rush 51, Sharmini Philp 4, Emily Barrie 2)
An intense game against Scoresby Swoopers tonight! We started the game at full throttle and were 5 up in the first few minutes, before things levelled out and it was pretty much neck and neck for the first half. Unfortunately a few dodgie umpire calls in the third quarter, rattled us and allowed Scoresby to take a massive 10 goal lead. Scoresby were actually a very nice team to play and they themselves questioned the umpires decision… none the less, we dropped our heads and allowed the scores to blow out.
After regrouping at 3/4 time the girls went back on with a mission to turn things around. The margin got to 12 at one point before the girls started fighting back. We got to within 3 with no time left on the clock and walked away with a loss 57-60. All in all, a bloody good effort from Hawkss. I'm sure we will see this team again come finals.
Most of our team played for Boronia Gold in Division 1 2017, so should be congratulated for a fantastic season finishing top 4 in Premier League 2018. Looking forward to seeing what this team can do next week as we head into finals.
Excellent game to Julia who scored 51 goals. Julia scored high on the seasons highest goal scores getting 358 goals in only 8 games. That's an average of 45 a game. I'm sure a full playing season would have secured her spot as highest goal scorer!!!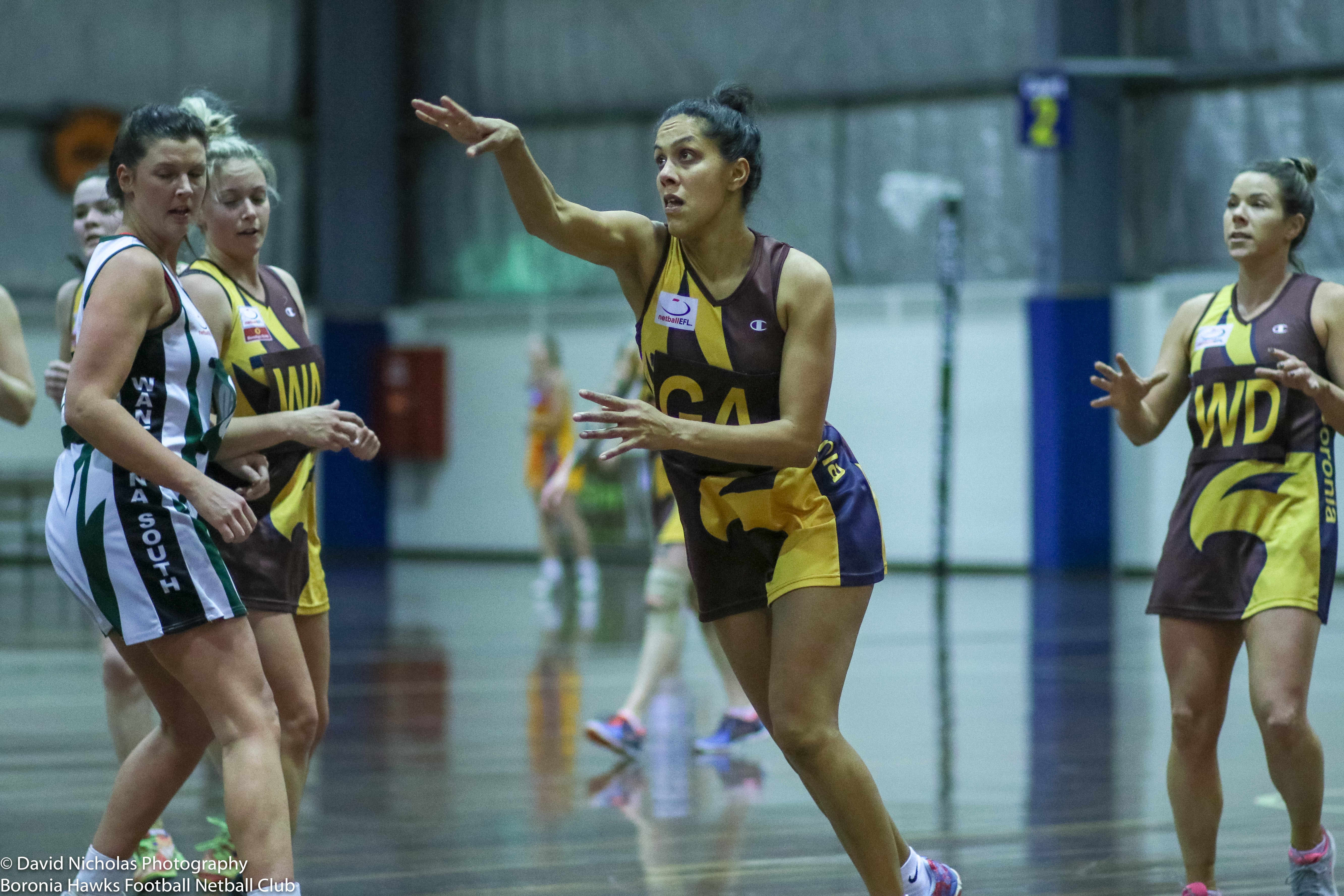 ---
GOLD Semi Final 1 (Elimination)
Boronia Gold 31 def by Mulgrave Red 32 (Sarah Grigg 18, Jess Hall 13)
Our Semi final against Mulgrave was an intense game. They came at us not with skill but with unfair tactics. 1st quarter saw us down by 2 goals and it was much the same for the 2nd quarter.
Ti copped the bulk of Mulgrave's undisciplined game from a foul mouth and physical contact from her opponent . All credit to Ti, we didn't realise the extent of it until later that night with the bruising across her hip. She kept calm and continued to put the pressure on which only rattled her opponent more.
3rd quarter they ran away with the lead and we were now down by 5. Our girls kept their cool and pushed hard to come back and even the score. Janae and Inga playing so well in defence together, they put the pressure on and when the goalers missed they were on the rebounds and let's not forget the Intercepts.
Ti was outstanding in WD. She wasn't given an easy task and she kept her cool and made her player work for every pass. Stacey was on fire in C with many turnovers and always there for the pass. Chanelle also strong in WA, such a reliable player with accurate passing into the ring and many turnovers. Casey made great position in WA too. Jess works hard in GA and is always available all the way down into the goals shooting 13 of the goals.
Sarah in GS constantly reoffering position and there for rebounds if needed, shooting 18 of the goals.
With only a minute left Mulgrave scored and ran the clock down. Our team started the season never having played together before and to go on and fight our way into the finals is a huge achievement. I'm proud to be a part of Boronia Football Netball Club and so proud of how our team handled themselves on court. Final score 31-32.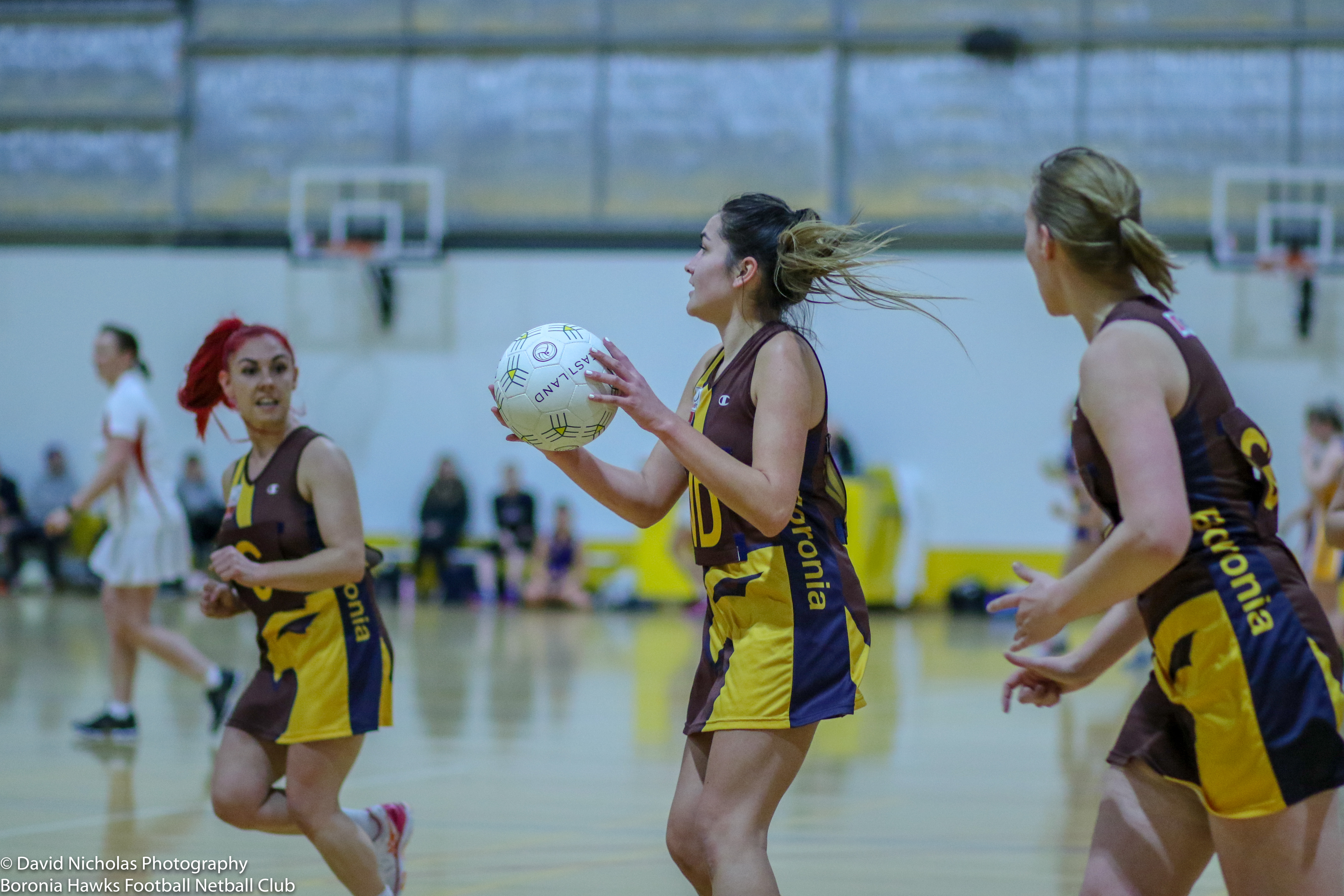 ---
BROWN Semi Final 2 (Double Chance)
Brown 22 def by Upper Ferntree Gully Red 25 (Dani Kemp 13, Caitlin Yann 9)
Unfortunately Boronia Brown were defeated in the Semi Final on Friday. Luckily after finishing on top of the ladder we will have a second chance this week against Glen Waverley Hawks Blue.
The Semi Final was a very tough game with a strong opposition and nerves affecting our players. The girls should not be disappointed in our efforts as they was the toughest opponent all season. We fought hard and many opportunities were won defensively during the game, but unfortunately we were unable to convert all of these to the scoreboard.
We are focusing on this week and learning from this loss as a stepping stone towards the Grand Final. Fingers crossed for us this week and it would be great for everyone available to come and cheer us on! Big crowds and cheering are very motivating/intimidating! #getaroundthebrown