What a moment it was when Alan Tudge MP, the federal Member for Aston, announced at our Presidents Lunch on 9 April the funding of $5M for the development and construction of a new pavilion at Tormore Reserve.
---
Alan followed up with this announcement on his Facebook page.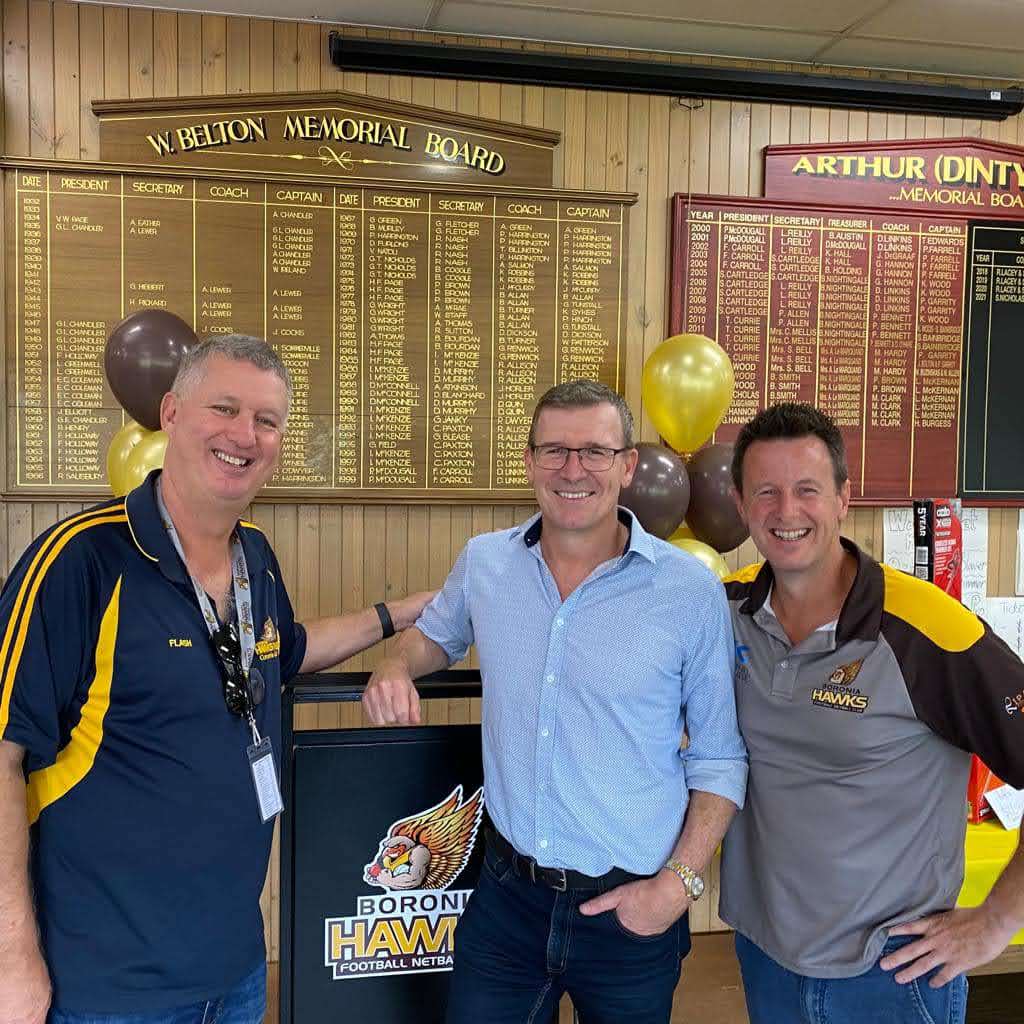 $5 MILLION FOR A NEW PAVILION AT TORMORE RESERVE, BORONIA
For over ten years, the leaders of Boronia Hawks Football Netball Club and Boronia Cricket Club have been pressing for an upgraded pavilion to replace the 40 year old club rooms. Today, I announced $5 million of federal funds to make this happen. Congratulations to all of those who persisted to make this happen. It will be a great result for the entire Boronia community.
---
Now What?
The Club is now working hard to move quickly from the announcement towards a framework that will deliver the fulfilment of our needs as a modern, inclusive community club with strong growth, particularly in female participation. We are working closely with our co-tenants from Boronia Cricket Club, who are an essential partner for all development of facilities at Tormore Reserve.
We are now proud to announce the formation of the Steering Committee that will be pivotal to the success of the development project. The committee will be chaired by Wayne Preston, who has already played a huge role in getting us to this point. This is a strong group of volunteers with the skills and knowledge necessary for such a task and who are all passionate and committed to their clubs and community.
Wayne Preston – Senior Vice President, BHFNC;
Scott Nicholas – Chair, Board of Directors, BHFNC;
Karen Little – Women's Football Operations Manager, BHFNC;
David Murrihy – former Club Secretary and Life Member, BHFNC;
Paul Noone – President, BCC;
Matt Smythe – Vice-President, BCC;
Leigh Blennerhasset – Secretary, BCC;
Melanie Kogelman – Treasurer, BCC.
All members and supporters of our club are welcome to read the overview of the Steering Committee's role and responsibilities, which has been shared with, and welcomed by, our community representatives Alan Tudge MP, Jackson Taylor MP and Cr Yvonne Allred.
Tormore-Reserve-New-Clubrooms-Committee-Overview

---
We look forward to providing regular updates as we move forward with this very exciting initiative for the sporting community of Boronia.
---