Boronia Hawks are very excited to announce that one of the Club's greats, Jess Bolton, has come out of retirement and has re-signed for 2021.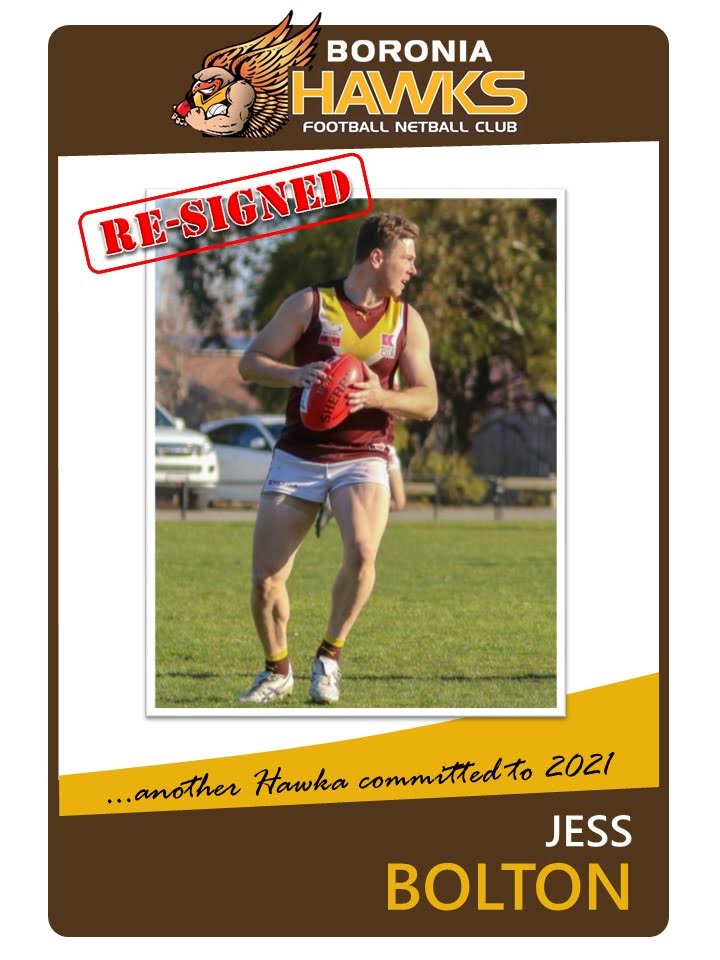 Jess is a true champion of the Club and two-time Bob Henry Medallist.
He was originally a Boronia Junior but left for East Burwood to play 74 games between 2005 and 2007 including 20 games in Division 1 Seniors. Bolts came back to Boronia in 2009 to make his senior debut for the Hawka. He also played 19 VFL games for Casey Scorpions / Demons between 2009 and 2012 before committing 100% to Boronia in 2013.
Jess is one of our most decorated players of any era in the Club's history. His record includes:
Boronia U15's B&F in 2003; 
Bob Henry Medallist for Senior Best & Fairest in 2012 and 2014; 
2013 and 2017 Senior Runners Up B&F; 
Senior Captain in 2014; 
2016 Seniors Best Team Player;
100th Game Medal in 2015; 
EFL Division 3 Team of the Year in 2012, 2013, 2014, 2016 & 2017;
Under 19's Assistant Coach 2016-17;
150th Game Trophy in 2018.
Senior Premiership player in 2018.
---