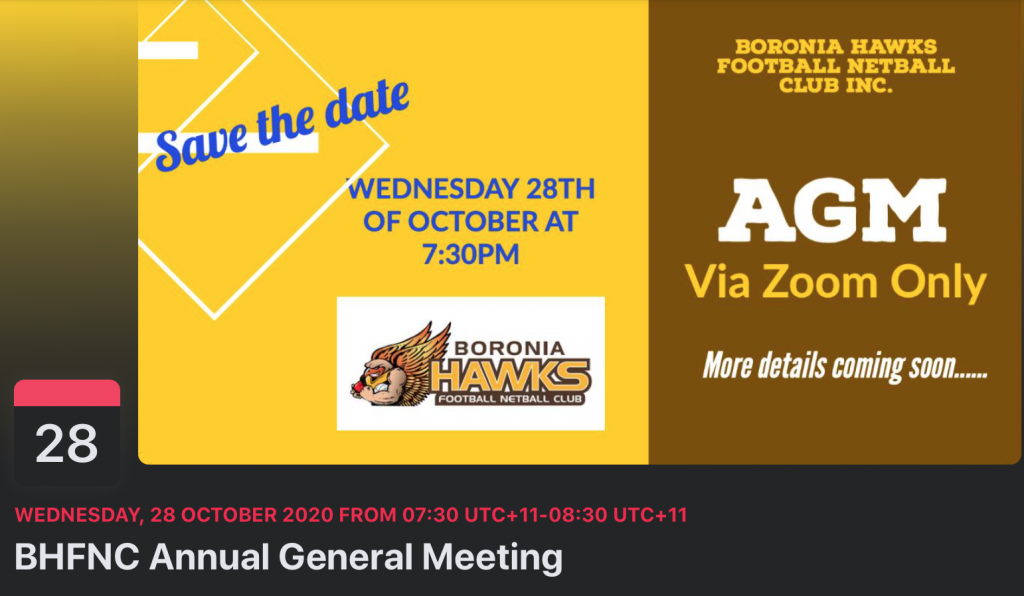 Please join us for the 2020 AGM including the election of office bearers for 2020/21.
As a result of the Coronavirus pandemic the 2020 BFNC Annual General Meeting will be held online for the first time in the Club's history. Due to the nature of this change, the Club will be providing information in the lead-up to the AGM on how members can register to attend, and how the meeting will run. 
In addition to the AGM, a Special General Meeting will also be held prior to the AGM to vote on minor changes to the Club's Constitution to reflect the growth since our One Club implementation in 2017.
ELIGIBILITY
Only financial members are eligible to vote or to nominate for election. Eligible memberships include all senior players, all coaches, social members, Hawks Nest members and one parent / guardian of each registered junior player. 
AGM REGISTRATION LINK: https://us02web.zoom.us/meeting/register/tZUucO6vpzwrE9bqFfSg_ikHDKvWXUYCKX2L
SPECIAL GENERAL MEETING – RECOMMENDED CHANGES TO CLUB CONSITUTION
There are four proposed amendments to the Club Constitution as outlined on this document:
NOMINATIONS
The Board and Committees welcome nominations for all Board and Committee roles. If you are interested in finding out additional information or nominating for a role it is recommended you speak with the appropriate contact prior to submitting a nomination.
Board roles: Scott Nicholas (0403 238 494)
Junior Committee roles: Kristan Wood (0411 605 203)
Senior Committee roles: Greg Hannon (0438 616 130)
BOARD/COMMITTEE NOMINATION LINK:
 https://forms.gle/QEQLaQcdT2vrY93t7
QUESTIONS FOR GENERAL BUSINESS AT THE AGM
Please submit all questions to be raised at the AGM to boronia@efnl.org.au. All attendees must register their attendance prior to Monday 26 October.
---