Boronia Hawks Football Netball Club is pleased to announce the Senior Football Department roles for season 2021. We strongly believe our football department is the equal, if not better, than any in the league. The experience and knowledge of not just football, but of building solid relationships and having an awareness of player wellbeing is most evident in our 2021 BHFNC senior roles. We are still to fill our Netball Manager role but are hopeful that position will be filled before the end of this year. Other key roles in the football department will be announced in the very near future.
Our Club is proud to announce each person in our football department. They play a key role in ensuring the continued growth and success of our Club. They share and role model our Club values and their continued loyalty to our Club is much appreciated.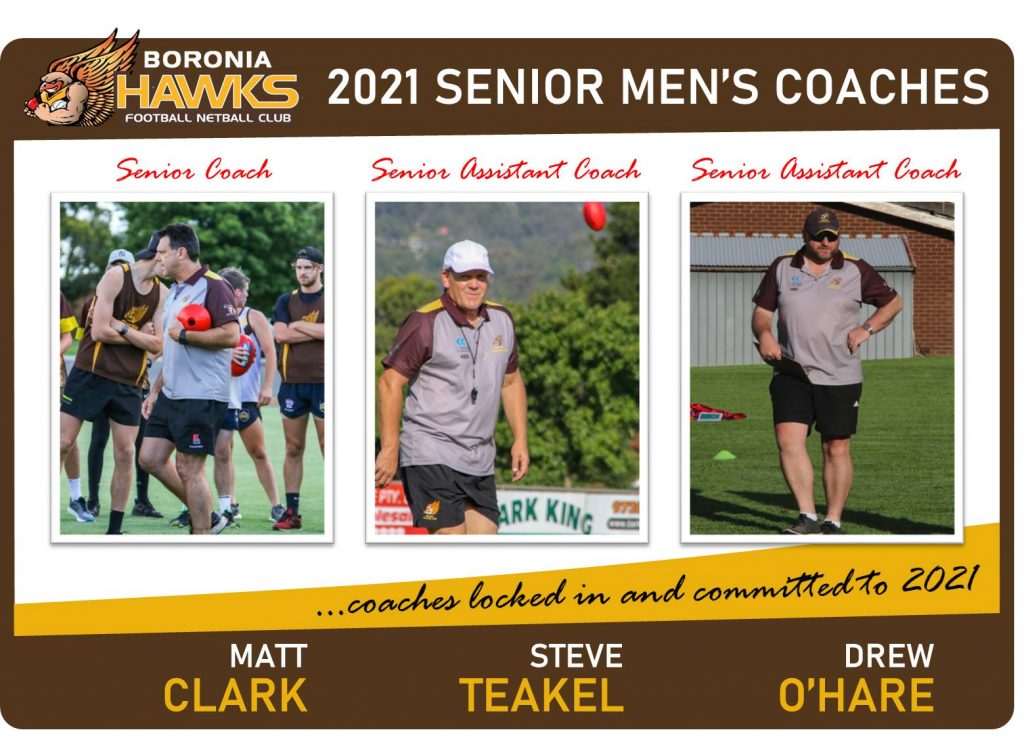 MATT CLARK: SENIOR MEN'S COACH
Matt is one of the most respected coaches in the EFNL. Matt has earned that respect by not just focussing on team success but on the welfare of each individual under his care. Matt's compassion, his empathy, his drive and energy to push our list to be the best they can be makes our club most fortunate to have him steering our male football ship. We don't take it for granted that Matt chooses to coach our club. Any club in the league would employ him tomorrow, but he enjoys being involved in our club and we are grateful to have him be a significant influence over our senior men's playing list.
STEVE TEAKEL: SENIOR ASSISTANT COACH
Steve's experience, his level headedness and his football knowledge built over so many years of involvement at a local level makes him the perfect foil for Matt. The two men are close friends, they have coached together for many years now and complement each other. Teaks is an absolute asset to our club and we hope he has many more years of coaching involvement at the 'Hawka.'
DREW O'HARE: SENIOR ASSISTANT COACH
Drew has been a respected and admired senior assistant coach for many, many years. One of the most passionate and committed Boronia people I've ever met, having Drew involved in our seniors men's program is like the sun coming up in the morning: it's just supposed to happen!! Drew brings a wealth of football and club knowledge to the table and we are so grateful for his continued service to our club. LIfe Member and Club legend!
---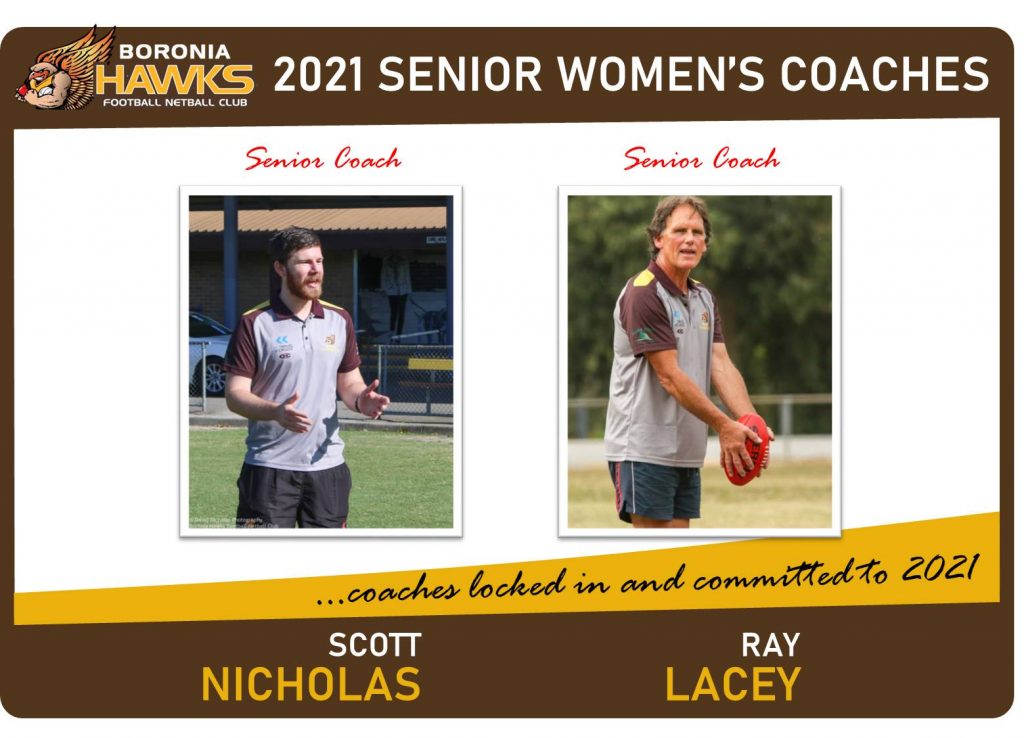 RAY LACEY and SCOTT NICHOLAS: SENIOR WOMEN'S COACHES
Ray and Scott have worked together to grow our senior women's program over the last three seasons. Ray, a club great and Scott, a current senior player and Club Chairman, share a strong passion for growing and enhancing the women's football program at our Club. Both men have built strong relationships with our female playing list and are always searching for opportunities to improve our women's program. Ray and Scott have built a strong coaching relationship over the past three years and can't wait to build on their foundations in 2021.
---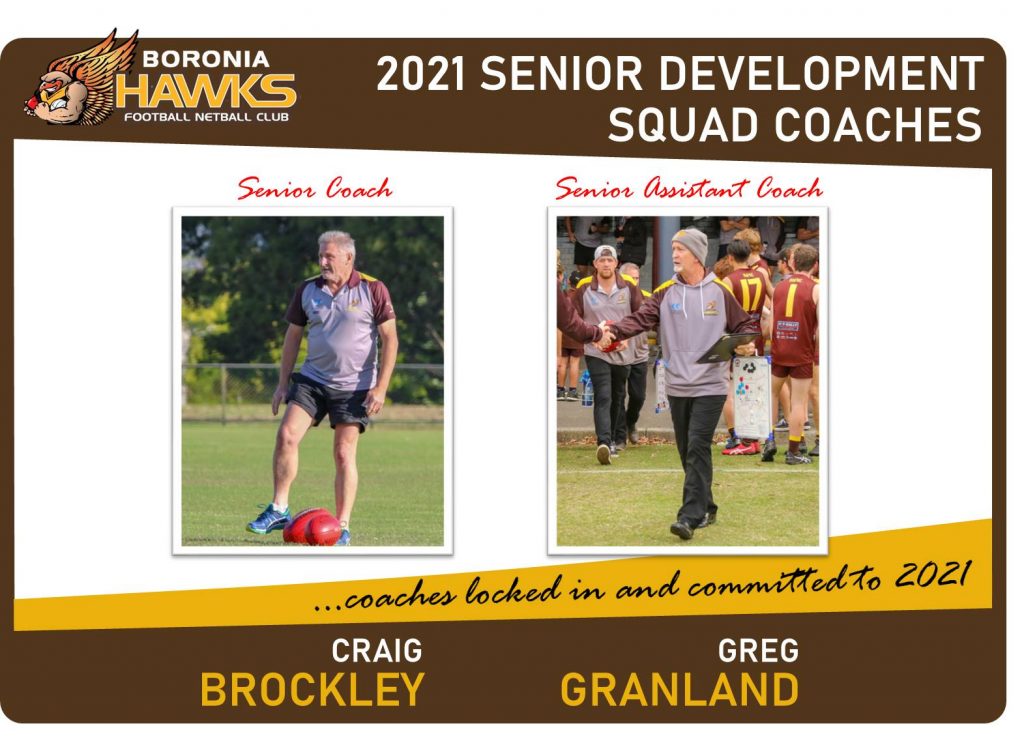 CRAIG BROCKLEY: SENIOR DEVELOPMENT COACH
I was able to bring Brock to our club over a coffee in Ormond about 4 years ago. That proved to be one of our Club's best coffees. Brock is now a HAWKA through and through! A Club sponsor, a dual premiership coach and a person that prides himself on building rock solid relationships with his players. He has the toughest gig at the club and he knows it! Craig treats his players with great love and respect and that absolutely goes both ways. I was fortunate to coach with him at Upwey and their loss has been our gain!
GREG GRANLAND: SENIOR DEVELOPMENT ASSISTANT COACH
As far as the coaching staff goes, Greg is the newbie on the block. A passionate and dedicated coach, Greg is not afraid to think outside the box and bring fresh and innovative ideas to the coaching staff. The proud  father of Jordy, Greg works harmoniously with Brock and spends much time communicating with the players and trying to find 1%ers to improve our list.
---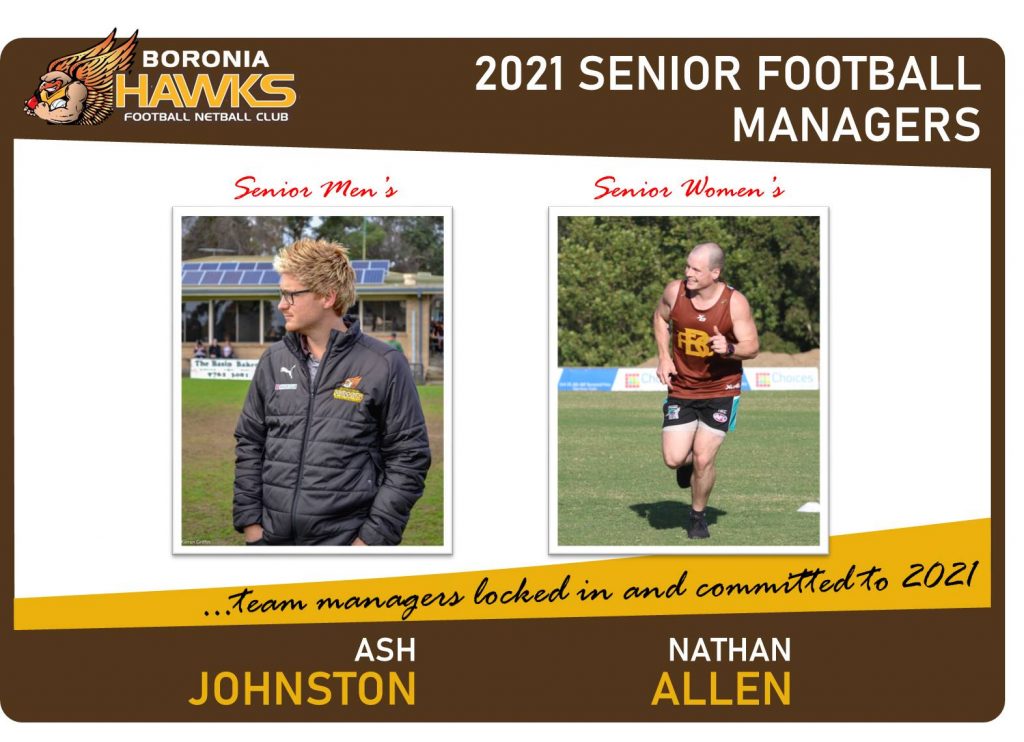 SENIOR MEN'S FOOTBALL MANAGER: ASH JOHNSTON
Having Ash steering the recruiting and the management of our senior list and coaching staff has been an absolute blessing. Ash is a Boronia person, he is a relationship person and he aspires to make our Club create a backbone that will hold us in good stead for many years to come. Ash, a former senior player, a major sponsor of our Club, and now producing future father / son players, is the conduit between player / coaches and committee. He has been working his backside off resigning our player list for 2021 and I can't wait to see our senior list in action next season. I have no doubt we can continue to compete and play deep into finals.
SENIOR WOMEN'S FOOTBALL MANAGER: NATHAN ALLEN – new role for 2021
Nath, is a current senior men's footballer, a former senior captain and one of the most respected people at our Club. Nathan, as Senior Vice President of our club will also now oversee the growth and development of our senior women's program. Women's football has been a major growth area of our Club and to have someone of the quality of Nathan overseeing this area of the Club will see women's football continue to grow and 'shine' at our Club. Nathan's wife, Bec, is also a current senior player so Nathan has an intimate knowledge of all challenges faced by our female playing list. Nathan will support our coaching staff and ensure our female players get every opportunity to improve their skills and enjoy playing the great game wearing a Boronia jumper.
---