Best on Ground Return Values – Seniors: $100 Reserves: $50 Under 19: $25 Vets: $25
---
Group 1 Harry Burgess – bought by Kristan Wood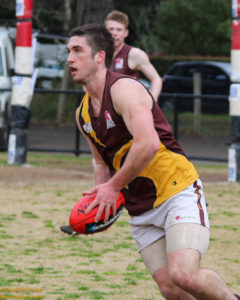 #45 Harry Burgess (VC)

As a first year Senior player, Harry was the club's Best & Fairest winner in 2015. In fact, Harry has won the B&F in every team he has played in since 2011 (with the exception of 2013, which some would say was his most developmental year yet). Harry is a proven vote getter and is only getting better, as he has now taken on more responsibility and cemented himself as one the competition's A+ players. 'H' is guaranteed to provide a healthy return so this one won't go cheap!

Corey Burgess

Already played several Senior games as an U19 and ready to step up again.

Damon Webb

Back from a hiatus, this bloke is all class. Don't be surprised to hear his name.

Matt Leeson

After a short break in 2015, he has completed a full pre-season. Potential +

Aaron Seagrave

Fresh into the Seniors, this kid has great skills and a lot of potential.

Sam Fung

Under 19s player who is ridiculously fit and talented. Excitement machine! 
Vet's Player: Steve Beaton
---
Group 2 Brett Castersen – bought by Ben Robertson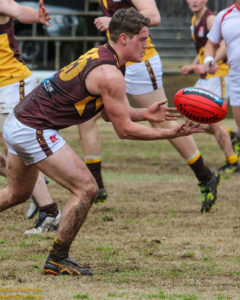 #4 Brett Castersen (VC)

Brett made a massive impact during his first season at Boronia last year and has quickly become one of the club's elite midfielders. With terrific skills and fitness, he is a natural leader and the ultimate professional.  Expect him to be well noticed as he leads this club towards success in the future. Don't hesitate – this one is a must buy!

Scott Nicholas (C)

A reliable and versatile superstar who has done it all. A veteran at just 25.

Dayne Ruff

Has developed in leaps and bounds and was arguably most improved in 2015

Nick Stamatakos

Reads the play really well and a loves the double golden fist spoil

Jourdon Stamatakos (VC)

An amazing presence as a big man who is unstoppable at his best.

Fletcher Duke

Could be playing 17s, but why hold back a gun! Fletch Jnr. is one to watch!
Vet's Player:  Chris Reid
---
Group 3 Tom Dodd – bought by Matt Geraghty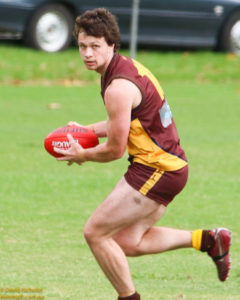 #18 Tom Dodd

Joining us from Montrose and one of Boronia's big recruits for 2016, Tom is one of the players who will always manage to get the job done. You will not only watch him take on opposition forwards and shut them down, but you'll also witness this playmaker demonstrate class and creativity with his ball use. We're excited about "Doddy" joining the club and you should be too. Spend up big!

Jason Youssef

Recent B&F winner at Nunawading FC – a very handy recruit to the club!

Dylan Hogarty-Doyle

A new player from Vermont who has everyone talking for the right reasons.

Ryan Miller (VC)

From zero to hero – some people just have a natural gift to do anything!

Berrick Harleyson

Joins the club from Nunawading and is sure to make a big impact in 2016.

Cam Flanagan

As good as a recruit after a spell from footy, this kid is ridiculously talented.
Vets Player: Steve O'Reilly
---
Group 4 Brendan Walsh – bought by Lynn Krenn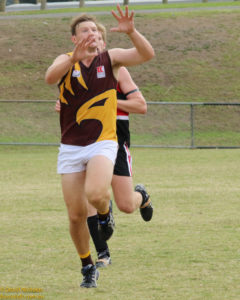 #9 Brendan Walsh

"BT" made a massive impact to the side when joining Boronia in 2015. The big man predominantly locked down CHB last year, but as we have already seen this year, he is versatile and might move forward. He commands respect and is exactly what our young side needs, as he has a natural ability to lead from the front and maintain focus on the job that needs to be done. As soon as  "BT" hits his peak, BOG performances will become a common occurrence. A genuine gun!

Brenden Rapisarda

The future is here and if this bloke fulfils his potential, anything is possible!

James Mueller (VC)

Rock solid defender with terrific hands and a great strategic outlook.

Jordan Granland

A future leader of the club with a lot of talent, developed through hard work.

Matt Brien

A very handy player when he is free from injury…and free he is right now!

Kyle Notley

A handy backman who always does his role well and is constantly improving.
Vets Players: Colin Krenn & Greg Krenn
---
Group 5 Ben Robertson – bought by Kristan Wood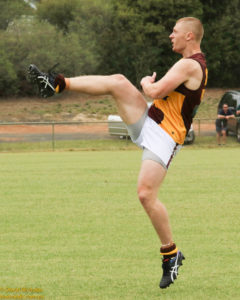 #TBA Ben Robertson

"Robbo" has returned home and already impressed after a HUGE pre-season. It has been a while since BFC has had a presence like this up forward. He is fit, strong and leads from the front with his imposing presence. Whilst missing the first few games with an unfortunate finger injury, don't be put off because his absence will only emphasise his impact upon his return. There's a buzz around the place at the moment and "Robbo" is a big reason for it.

Jesse Rosomacki

The big man is back. If he fulfils his potential, the sky is the limit!

Matt Heenan

"Crackers" has returned for another year and is already making a big impact.

Sam Griffiths-Lewino

Returning player to the club – fitter than ever – versatile big man.

Matt Rech

After a number of years away, Matt is back and keen to return to his best.

Jordon Zeug

In the words of Brian Taylor: "Boy oh boy, wowee!" This guy is big and scary.
Vets Player: Macey Ryan
---
Group 6 Lachie McKernan – bought by Matt Heenan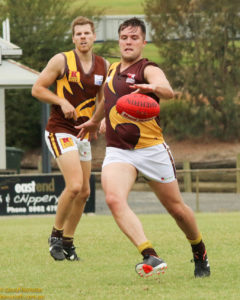 #17 Lachlan McKernan (C)

Quite simply, "LMac" has consistently been one of the club's best players of the past few seasons. He has completed a massive summer of fitness and is keen to take his footy to the next level in 2016. He is a prolific ball winner who knows what it takes to beat the best of the best. It is difficult to find genuine class like this and now that he is injury free and focused, it's not hard to see that he is in for a dominant year. Dig deep and spend up big here.

Brenton McAlpine

Previous B&F winner in various teams, "Hammer" is one of our prized players.

Chris McDonald

These days he is wearing big boy pants and sporting a rig. Proven vote getter!

Ray McDonald

A handy versatile player with a mature footy brain.

Sam McFadyen

First year Senior, this big man has been super impressive duirng pre-season

Caelan Murrihy (C)

Athletic tall guy in the 19s who could do anything. Ready for a massive year.
Vets Player: Brad Mills
---
Group 7 Jarrod Lake – bought by Jarrod Lake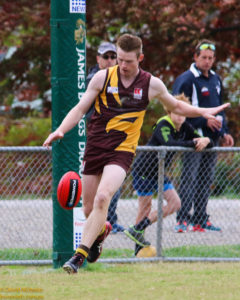 #11 Jarrod Lake

Despite being a key figure in last year's Senior side, "Lakey" was still technically an Under 19 player. However, after playing TAC Cup the previous year, it was obvious that he's a rare talent and has since become one of Boronia's most relied upon players. A year on and he is looking more dangerous, competitive and skilful. Without a doubt, he is the best Full Back in the competition and will be the talking point throughout the EFL. Here comes the money!

Jeremy Nelson

Recruited from Ashwood FC, he is hard at it and vocal. Bound to impress!

Luke Biddau

A former Eastern Ranges player. After a short stint at Olinda, he's back home!

Jake Godwin

Currently on the Eastern Ranges list, so brings genuine class when he plays.

Tyler Steele

What an impressive tall player this young man is. Unlucky opposition ruck!

Brayden Wright

Bottom age 19s but already pushing Senior selection – the kid is pure class.
Vets Player: Casey Bridges (Captain)
---
Group 8 Matt Geraghty – bought by Matt Geraghty
#22 Matt Geraghty

One of this year's exciting recruits, 'G' joins the club from Montrose. He brings a wealth of knowledge due to his experience and valuable Division 1 experience. He is a hard attacking player with a polished left boot, and possesses a competitive edge to ensure his team enjoys success. As long he's not falling asleep on the field or lost in a day dream about his better half, 'G' will provide enough focus and measure to get the attention of opposition…and those giving the votes! A wise investment!

Lachlan Watson

Back from injury – quit fartin' around Lach – get on ball and start dominating!

Nathan Watson

Very few have the skill and athletic endurance of Watto. See above

?

Damon Fairchild

The next Lachlan Watson – takes hangers and displays extraordinary talent.

Jacob Farrell

He's showing signs of his old man down back, shutting down the best forwards.

Anthony Biddau

"Bones" is a very versatile and intelligent footballer. Expect to impress!
Vets Player: Pete Lewis
---
Group 9 Jess Bolton – bought by Scott Nicholas and David Nicholas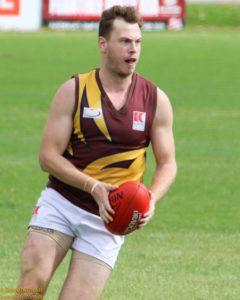 #14 Jess Bolton

When a player has been consistently dominant as long as Jess, it is hard to find more to say that hasn't already been said. He is a star of our club and will be recognised for years to come. Jess won the Senior B&F in 2014 and polled extremely well in 2015, even after missing many games through work / injury. This year, he is fit and ready to lead from the front yet again. Expect this group to go at a big price!

Jacob Paterson

He is so quick that he rarely has an opponent. The kid can play and loves a snag!

Jacob Reddaway

A sneaky, yet classy left footer who has already proven his worth in the Seniors.

Mitch Agars

An elusive first year Senior player who ready to breakthrough at any moment.

Michael Smith

Played his first Senior game as an U17 last year and is a star in the making.

Zack Brasher

An extremely skilful and talented small man who we welcomed in 2015.
Vets Player: Dean Rule
---
Group 10 Andy Phillips – bought by Brad Phillips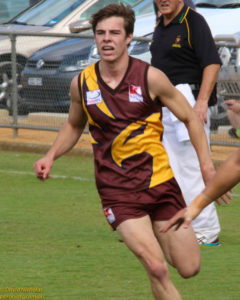 #6 Andy Phillips

Andy didn't get to play a whole lot of Under 19 footy because his unique talent was recognised early. In his third season of Senior footy, he is only now technically of Senior age. Wow! Don't let his nice façade fool you. When Andy crosses that line, he is the ultimate professional and competitor. He actively seeks to improve at every opportunity, and having natural speed and skill like he does, it is a recipe for dominance. Start the bidding high!

Justin Wade

Fearless and a workhorse, "Wadey" is hard to stop. A pleasure to watch!

Kieran Phillips

Fit, skilful, great hands – let's hope he finds the consistency he is capable of!

Stuart Masson

A new player to the club who is bound to make an early impression.

Josh Guest

"Guesty" is one to watch. A handy midfielder who is ready to step up.

Jayden Purdon

A very smooth wingman who wins the footy well and loves to run.
Vets Player: Rod Allison
---
Group 11 Ryan Henderson – bought by Ryan Henderson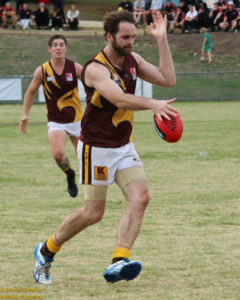 #1 Ryan Henderson

It is amazing how much this club relies on "Hendo" and yet he just takes it in his stride. He is our main ruckman and plays his best footy when his back is against the wall. Fans of the 'Hawka' will be keen to see what this big man can deliver this year because he has been progressively developing into a star over the past few seasons. He will be asked by the coaching staff to give plenty and he will deliver. Get your support behind the great man!

Travis Murphy

Recruited from last year's Division 3 premiership squad at Mitcham FC

Gerard Petrie

Brother of Drew, this bloke's only downfall is that barracks for Melbourne.

Matt Neve

U19 captain in 2015 and now a Senior player. Rock solid backman with class.

Daniel Morse

A reliable backman, "Morsey" proved last year that he is ready for Senior footy

Rhys Migues (VC)

Courageous midfielder who came Runners Up in the league B&F last year
Vets Player: Mick Morse
---
Group 12 Zach Callinan – bought by Rob Bell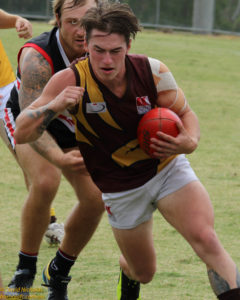 #23 Zach Callinan

At a young age, Zach has managed to become a player that is well known to BFC supporters due to his blistering speed and ability to create something out of nothing. He is one of those players that fires a team up when he produces something special. Well, this year you can expect to see all that and much more. He has significantly bulked up and looks like a man on a mission. Zach is worthy of your support!

Sean Bell

Blistering speed and reads the play like no other. Breakthrough year ahead.

Brock Jones

New player to the club who shows a lot of promise. Big work ethic and tough!

Matthew Veale

A new player to the club who is looking fit and showing plenty of promise.

Mitch Bell

Reliable backman who has the ability to shut down any player on his day.

Patrick Kinniff

He loves a strong mark and a hanger is looming. Athletic and versatile!
Vets Player: Matt Rule
---
Group 13 Luke Leeson – bought by Chris McDonald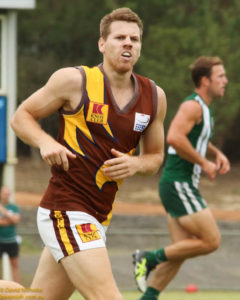 #27 Luke Leeson

Luke is one of the more experienced members of the Senior squad so he'll be heavily relied upon this year. One of the most courageous and versatile players at the club, he constantly seeks to take his footy to the next level. He is looking fitter than ever and it is predicted that he will have the ball in his hands quite often this season. If you're looking for a player that is due to stand out, look no further.

Nathan Walsh

One of the handy recruits who will clearly make huge impressions this year.

Jaryn Darsa

Let's hope we see this pure talent take on Senior footy like we know he can.

Dylan Armstrong

The ever-reliable player who knows what it takes to get the job the done.

Dean Griffin

When he's not being weird, he tears sides apart. How is he still U19s? Wow!

Ben Hohenberger

Brother of John is all grown up and showing hints of class. An asset to the 19s.
Vets Player: Darren Hansby
---
Group 14 Dain Catley – bought by Grice/Kimmitt Syndicate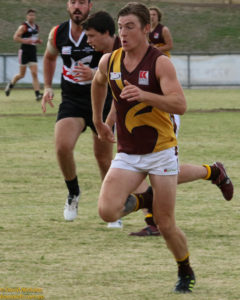 #36 Dain Catley

Dain is a Boronia boy through and through, and there are few that want to see the success of this club more than him. He is one of the hardest working individuals you will come across and consistently takes his games to new heights. The term 'fearless' is almost an understatement when it comes to Dain, as he will barrel into packs head first and often come out with the ball. Inspiration plus!

 Ryan Warren

"Shagga" is living up to his potential and playing some great footy. Kid can play

Dane Romano 

Rock solid and consistent big man. He will be back from injury in no time.

 Dylan Dower

Versatile due to raw strength and talent. Plays his best through the midfield.

 Tyler Dower

Rock solid backman who gets the job done. Every team needs a Tyler Dower.

 Zach Dower

Watching Zach play on ball is an absolute treat. Skilful, athletic and courageous
Vets Player: Nathan Dwyer
---
Group 15 Sam Goldsack- bought by Hans Wennagel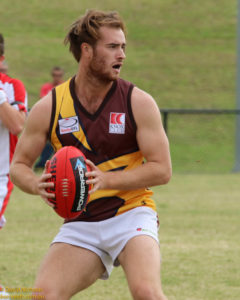 #26 Sam Goldsack

The club welcome's this former Boronia and Eastern Ranges player back to the club after some time off to focus on rehab, work and falling in love. As a 16 year old, Sam transferred to the club to play U19 footy, as he wanted a bigger challenge. This guy reeks of class. He is a prolific ball magnet, an absolute workhorse and has the skills to match. The future only gets brighter for this young gun!

Mitch Smart

He's back!! Gun key forward who takes big marks and kicks goals. Get excited.

Ryan Black

How can one player have such little experience and be so good – future gun!

Scott Le Marquand

The comeback kid has more courage than most blokes. Inspiring stuff, Scotty!

Ryan White

The next Dean Grice – seriously, he is that good! Dual Ray Lacey medallist.

Jake Whitmore

Few love the game more. A dangerous left footer who puts the team first.
Vets Player: Adam Whitten (VC)
---
Group 16 Players not listed – bought by Bill Notley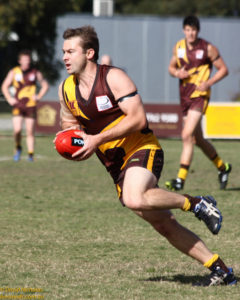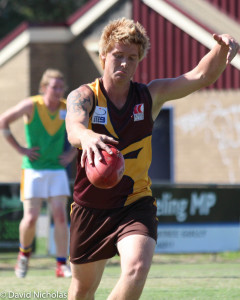 Players Not Listed

This is the opportunity to purchase the group that includes all of the leftovers. Anyone who has not been listed, including late recruits or fill ins, belong in this group. If history is anything to go by, this is a wise group to purchase! Below are some names that might appear – you never know!

Kristan Wood

He is not only the President, he is a member of the BFC Team of the Decade

Ash Johnston

Seriously mate, you're mid 20s still. Get out of the office and back on the field!

Harvey Chinn

Under 17 Eastern Ranges player and keen to step up

Jake Mellis

Under 17 Eastern Ranges (emergency) player and keen to step up

Vets

Any Vets player not listed

A new recruit?

There still might be some potential players being spoken to about joining us