The Annual Player
Auction

took place on Saturday 6 May with fierce bidding to secure a winning group. Many thanks to everyone who came along and joined the fun and bought a piece of the action. BOG's will be announced each Saturday night on the @boroniahawks Scoreboards.
---
GROUP 1 – Bought by Lachie McKernan
Ryan White If you watched BFC in 2016 you'd know all about Ryan White. Senior B&F as an Under 19, silky smooth and the scary thing is: he's only getting better.
Mitch Agars Reserves B&F winner in 2016, hard at the ball, can use both sides of his body and dominant inside and out.
19's – Jayden Purdon U19's B&F winner in 2016, has had a strong start to 2017 with a BOG against Scoresby. Great hands, great skills.
VETS – Robert Anthony Weisz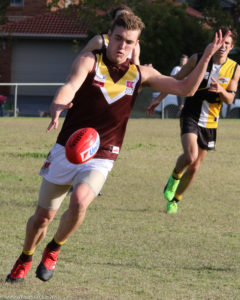 ---
GROUP 2 – bought by Kristan Wood
Lachie McKernan Senior Captain, leader of the club. Experience at VFL and Division 1 level, expect him to find plenty of the ball this year. Fitter and stronger, expect plenty of BOG's.
Chris McDonald First year as the 2's Captain. He may not be the biggest on the field, but he plays hard, tough footy and gets plenty of it.
19's – Michael Smith This boy is quick, and has the ability to break the game open. Will find plenty of the footy in 2017.
VETS – Simon Lehman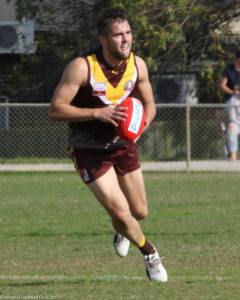 ---
GROUP 3 – bought by Mick Kimmit
Ryan Henderson Hendo had a break-out year in 2016 and narrowly missed the B&F. SEN Team of Year, he will rack up a few BOG's in the ruck before the year is out.
Jess Rosomacki This kid can play, and had a fantastic year between CHF and the ruck in the 2's in 2016. Is only getting better and will bully opposition this year.
19's – Tyler Steele He's the U19's captain for a reason, he can play. Will do most of his best work in the ruck.
VETS – Colin Krenn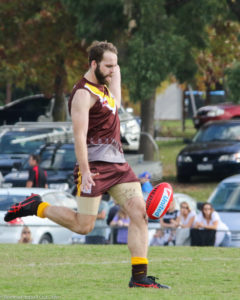 ---
GROUP 4 – bought by Rob Bell
Harry Burgess A veteran in his early 20s, Harry won the Senior B&F in his first year out of the 19's. Hard as nails and an ultimate professional, rarely beaten in 1 on 1's.
Sean Bell Finally got an opportunity to show his stuff in 2016 and didn't disappoint. Running defender, he can play tall, small and in between.
Dayne Ruff Smooth as silk, and superb user of the footy. Accumulates possessions and can impact the game with his damaging kick from the midfield or half back.
19's – Sam Fung Crowd favourite, continues to develop and grow in confidence.
VETS – Darran Hansby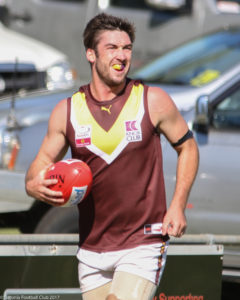 ---
GROUP 5 – bought by Dean Collins
Jess Bolton There's not much The Big House hasn't done. SEN Team of the Year four times, dual Boronia Football Club B&F winner, VFL experience. Controls the game from a half back flank. Watch for him to tuck the ball under his arm and go.
Ryan Warren Has had a taste of Senior football and has come a long way in the last few years. Too good to be playing 2nds, so if he plays down, big chance for BOGs.
Josh Collins We know he can run, but has shown great development in other areas already in 2017. Tough, and super competitive.
19's – Brody Kavanagh Best on ground last week again Chirnside Park.
VETS – David Fitzgerald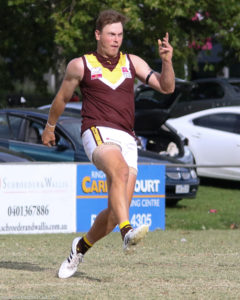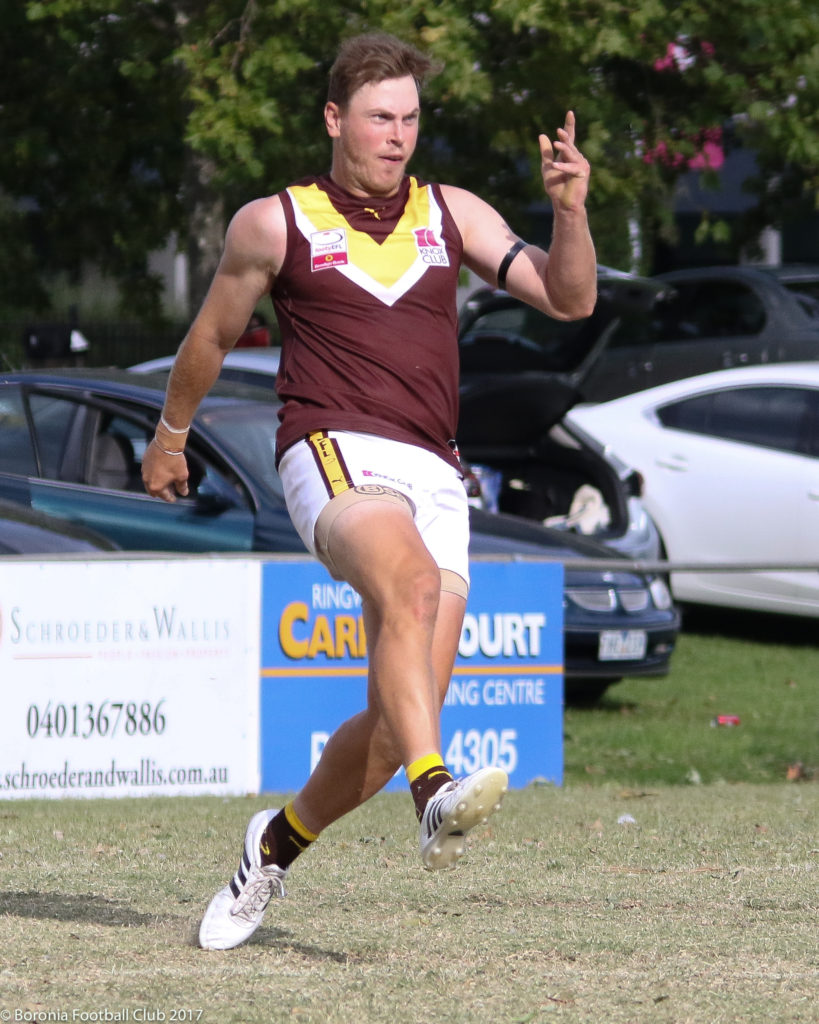 ---
GROUP 6 – bought by Gary Wood
Luke Hannon Already proved his worth with two best on ground performances this year. Played with Casey before coming to Boronia, a great footy brain, consistent and will dominate games.
Josh Hannon Younger brother of Luke and in a very different mould. Key forward who'll spend time in the ruck, brings huge talent and experience from TAC Cup in 2016. Keep an eye on this guy.
Jarrod Eccleston Strong body and looks good in the middle or up forward. Smooth mover and great footy brain.
19's – Zack Brasher Can float forward and kick goals, expect more of this in 2017.
VETS – Macey Ryan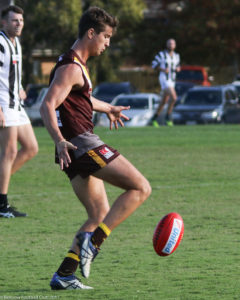 ---
GROUP 7 – bought by Greg Krenn
Jarrod Lake Has held down the backline for a number of years, one of the best in Division 3. Rarely beaten 1 on 1 and has made many Div 3 forwards his bunnies.
Tom Dodd Spent time forward and back in 2016, but will look to hold down a spot in the Senior backline in 2017. Big man in for a big year.
Michael Goldsack Another returning after some time away from footy, former Under 19's captain.
19's – Jourdon Stamatakos Big and mobile, Yogi can kick goals. 21 last year and 26 the year before. Expect more of the same and a few big tackles while he's at it.
VETS – Gregory John Hall and Rick Witte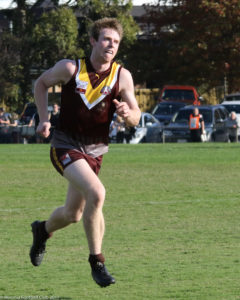 ---
GROUP 8 – bought by Mark McAlpine
Ben Robertson Is the forward presence the club had been lacking, and made a big impact upon his return in 2016.
Dean Black Comes to the club from Norwood and is already looking very comfortable up forward. Mobile and quick on the lead, big tank for a big man.
Travis Murphy A fierce competitor and a developing leader, Murph spent time forward and up the ground in 2016. Also has a huge impact when he goes into the ruck.
Luke Biddau Oozes class. Great hands, great on the lead and can finish. Expect him to kick a few bags when it all comes together.
19's – Anthony Biddau One of the more experienced players in the U19's. expect Bones to have a big year.
VETS – Gregory Krenn
---
GROUP 9 – bought by Greg Hannon
Jarryd Rutherford Back after a year off in Europe, Ruthers returns and slots straight back into the backline. Will get the big job each week, can pinch hit up forward, just ask him.
Dane Romano After overcoming some serious injuries in the past few years, Dane is fit and ready to make a big impact across half back in 2017.
Dan Gerrard Returning after a major knee injury, a strong defender who is hard to beat.
19's Tyler Dower Strong defender, hard to beat 1 on 1 and will be in the votes.
19s – Jack Mueller Impressive preseason and looks set for a big year in 2017.
VETS – Jason Davis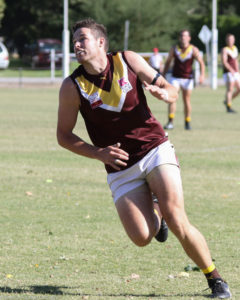 ---
GROUP 10 – bought by Bill Notley
Brendan Rapisarda Rappa has the best shoe in the club. Strong body, fierce competitor and is developing into a game-winning midfielder.
Sam Goldsack Has had Senior experience the past few years, but injury has prevented him from showing his sharp skills and burst of speed. This could be the year it all clicks.
Caelen Murrihy Utility. So much so he doesn't even know where he plays. Forward, back, wing, ruck – Murra can do it all.
19s – Rhys Migues Migooos has huge potential, and will dominate games in the Under 19s midfield. Strong body and not afraid to use it.
19s – Kyle Notley Solid contributor, gives it all so expect a big year from Nots in 2017.
VETS – Leigh Cook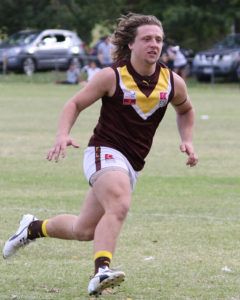 ---
GROUP 11 – bought by Anthony Baker
Luke Leeson Consistent, tough and rarely beaten in a contest. A stalwart of 1's for a number of years, Leeso is only getting better with age.
Nathan Allen There's tough and then there's Nata. Former club captain looked to be back to his best in pre-season before injury again sidelined him. When he returns expect him to be doing his best work at the bottom of the pack.
Scott Nicholas Part of the furniture in the 2s backline, great hands and voice.
Damian Duke Key backman, who turned down an offer from Nunawading to return to Boronia after a few years off.
19s – Patrick Kinniff Started the year well with a BOG in Round 1, smooth defender with superb hands.
VETS – Steven O'Reilly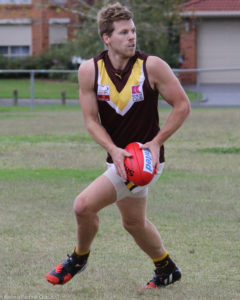 ---
GROUP 12 – bought by Neil Reddaway
Lachlan Watson This guy can do anything he wants. Can kick a bag before you blink and finished 2016 with 34 goals in the Seniors. Strong hands, superb athlete.
Jacob Paterson 48 goals in the 2s, 21 in 8 games in the Seniors. Kicked 7 in Round 1 against FTG so expect him to feature when he returns from an ankle injury.
Jacob Redaway Arguably the best small forward in the club. Great sense around goals, tough and applies great forwardline pressure.
19's James O'Neill Great preseason and has kicked goals in 2/3 games so far.
19's Connor De Boer Kicked two in Round 1.
VETS – Matthew Chawulak
---
GROUP 13 – bought by Matt Geraghty
Luke Johnson Vermont Reserves Captain in 2016 comes to the club with big expectations. Strong start to the year through middle and half back. Good all-round operator.
Luke Hare If you haven't seen this bloke kick a footy do yourself a favour. Great hands, damaging left foot kick and will be a huge factor as the season rolls on.
Todd Kenny Quick, tough midfielder from Mulgrave. Had a huge preseason and expect to see him get a lot of footy through the midfield.
19s – Chris Anderson New to the club in 2017
VETS – Christopher Burgess and Steven Beaton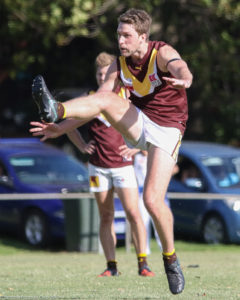 ---
GROUP 14 – bought by Mark McAlpine
Brenton McAlpine Hammer is as consistent and reliable as they come. Does the hard work, can shut down an opponent in the middle or down back, superb kick.
Ryan Miller Has speed to burn and is getting better every game he plays. Only his second year of football.
Nathan Watson Another quick, athletic midfielder, with a damaging left foot. Does his best work on the wing and can tear a game apart
19's – Dylan Dower Expect a big year from this guy who featured in the best 9 times in 2016.
VETS – Christopher Reid and Stephen Mitchell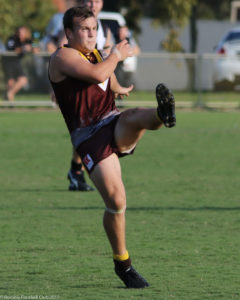 ---
GROUP 15 – bought by Lyn Krenn and Jo Whiffin-Brown
Corey Burgess Quickly developing into the club's most reliable and flexible defender. At a young age he has taken some huge scalps, reads the play well and is set for a big year.
Jordan Granland A natural senior footballer, this guy is just too good to play anything else. Runner up in the 2's B&F last year, a solid defender who sets up play with his run and direct kicking.
Kane Milde Very impressive preseason and had huge impact in the practice matches. Strong body, quick and takes the game on.
19s – Fletcher Duke Has had a huge preseason, strong frame and has been in the best each week in 2017. Set for a big year.
VETS – Matthew James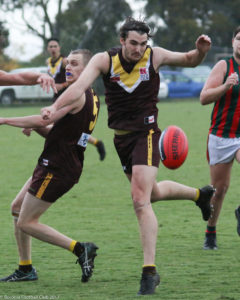 ---
GROUP 16 – bought by Scott Nicholas
Brett Casterson A natural leader, his voice and toughness is an example for all. Can shut down an opponent or win the ball inside. Free from injury and in for a big 2017.
Matt Leeson Surprise packet of the 2016 season, developing into a solid Senior footballer. Has worked hard in the off-season and has had a great start to the year.
Jai Sartori Will inject a whole lot of intensity and hardness into the side. Strong hands, great skills.
19's Ben Hohenberger Already in the best twice this year. Expect more as the season rolls on.
19's Tyler Griffiths First year in the Under 19s, sure to have an impact after a strong start.
VETS – Christopher Aaltonen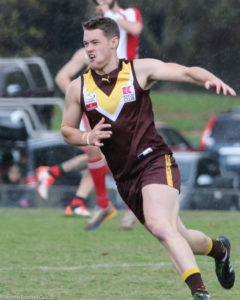 ---
GROUP 17 – bought by Ben Robertson
Matt Geraghty Recruited from Montrose, had a strong first season with Boronia in 2016. Traditional centreman with a damaging left foot, ready for a big year.
Mason Kirby Highly decorated junior career, comes to Boronia with a lot of promise. Lightning acceleration and damaging kick. This guy can play.
Cam Flanagan First taste of Senior football in 2017, can play a variety of positions, clean with the footy.
19's – Zac Dower Featured in the best 12 times in 2016. The kid can play. Expect him to push for B&F in 2017.
VETS – Benjamin Dahan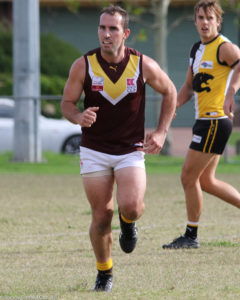 ---
GROUP 18 – bought by Greg Krenn
Damon Fairchild One of the most exciting young players at the club. Can hold down full-forward in the Seniors, or float through the midfield. The sky's the limit and after 6 goals in Round 3, set for a big year.
Brayden Wright Suffered an injury pre-season but was a huge contributor in his first year of Senior football in 2016. When he returns you can expect a tough, versatile big man.
Lindsay Palmer Finally returning to football after a number of years off, has more talent than you can poke a stick at. If he can string a few games together he could be anything. Watch this space.
19s – Jake Whitmore Third year of U19s. Jake got off to a great start, kicking 5 in Round 1.
VETS – Bruce Stewart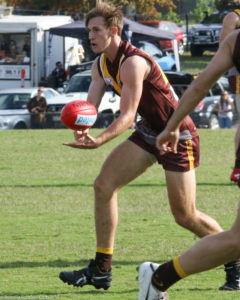 ---
GROUP 19 – bought by Dean Collins
Jake Godwin Currently listed with Box Hill, with TAC Cup experience. Lots of byes in the VFL calendar so expect to see him more than a few times.
Jayden Collins Playing with Northern Bullants, with TAC Cup and Vic Metro Experience. Gun.
19's – Harvey Chinn Playing with Eastern Ranges in 2017, Harvey showed what he can do in 2016. Accumulates possessions and rarely misses a target on either side of his body.
19's – Jake Mellis Another on the list at Ranges, if he plays at BFC expect him to dominate.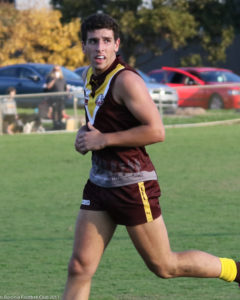 ---
GROUP 20 – bought by Rob Bell
Any players not listed from the Seniors, Under 19s or Veterans.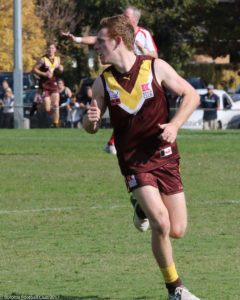 ---